Two of the bikes in my collection one a Wabi Classic is sporting a Rivet Independance and originally was what Rivet calls chestnut color . The other bike a Mission Bicycles Sutro has a Gilles Berthoud Aspin installed that originally was what is referred to as natural color. Now hundreds of miles and many Obenauf's smears later I would say they each are a variation of brown. I am not complaining they are aging beautifully in my opinion from the finishes to the way the leather is softening meeting perhaps even exceeding my expectations if they last long enough.
To illustrate the the wearing slash breaking in effects I've included some pictures that can put it across much better than I can explain it. the two pictures below are the Gilles Berthoud Aspin. One picture a new unit picture ripped straight from the Gilles Berthoud website showing what is meant by "Natural" and mine was exactly as the picture when I received it. The other showing mine as it looks today. I really like the way an uncolored saddle finish changes. The finish wears uniquely on every saddle no two are alike! Also notice the slight differences in the shape between the pictures as this is the leather softening slash breaking in to fit my anatomy. The shiny effect well that's all from using Obenauf's on it. The Aspin has become a really comfortable perch in my opinion.
Where I live is basically bicycle unfriendly the roads generally are fair at best and motorists really don't seem to know how to regard cyclists. Bicycle lanes are sparse and residents seem to think they are for parking or a good place to throw trash, glass, paper, cigarette butts, or to be used as extra road shoulder as needed. Some of us do ride despite the risks and to be honest I will admit some areas of town are better than others. We have a major university (LSU) here and there are a number of bike paths in that area in bad need of an update/repair so most cyclists around the campus use the streets or sidewalks, but motorists around there seem a little more aware of cyclists usually. So when I ride I look at it like this: one has to be tenacious or one will never get anywhere. One also has to be very defensive or one will get run over. It is always a good idea to go in pairs, trios, quads, or even larger groups to increase visibility and have a witness if anything happens. It is important to plan as some roads and streets are just plain dangerous and should be avoided if at all possible. Night time is less traffic generally but having at least be seen lights is a very good idea in fact the more light the better between the roads and the drivers one can't be too cautious at night. Myself I tend to do a portion of my riding after dark because I like the overall low traffic conditions that occur at night in a lot of neighborhoods. I am not saying that Baton Rouge is more or less dangerous than anywhere else but just that like many towns I'm sure that riding a bicycle to get around shouldn't be approached with anything less than a serious attitude and reasonably well built and maintained bicycle. OK I guess I'm rambling so I'll move on.
Currently I ride one of four bikes depending on my mood. Pictured is my newest edition to the pack and what has turned out to be a really easy to ride round town and neighborhood fixed/freewheel cruiser. I tend to spend more time on the freewheel side of the hub as I find it more convenient in stop and go traffic laden situations. This particular model is called a Wabi Cycles 'Classic' and it is hard to imagine any fan of bicycles not enjoying this one as it is really well thought out.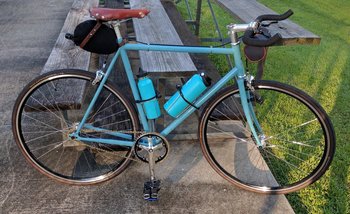 Like I do with all things I dressed this bike up the way I like it. Since this one has bottle bosses I added two insulated bottles from Hydro Flask one is a 40 ounce and the other is a 21 ounce. I am using bottle cages from Velo Orange. These cages do leave a line on the bottles where the wires go around but I am really not that concerned about keeping everything perfectly pristine looking. I bought this stuff to use after all. I have come to prefer leather saddles and the one I mounted here is a model from Rivet Cycle Works. I use Obenauf's Leather Preservative to waterproof and preserve it. The folks at Rivet Cycle Works include a small container of the stuff with this saddle but I have been using Obenauf's on two other saddles prior to giving the Rivet saddle a try and my experience with Obenauf's has been very good. Obenauf's will darken the saddle but so does every other leather treatment I've used. That is why I always start with lightest color available when I buy a saddle and have come to prefer the way the finish changes uniquely as the saddle sees more use. This one was some color called chestnut which appeared as an almost natural tone out of the box. I added two bags one saddle bag for tools and personal items like keys or wallet and a what I call a handlebar bag for my phone and some other small items. The bike rolls on 28mm Continental Gator Hardshell tires and is pushed by VP 001 pedals with Hold Fast FRS Pedal Straps. In as much as this bike is fairly new I can't really give an in depth analysis but currently with just over 125 miles on it I am very impressed and find this bike very easy and comfortable to ride. It is light (18.4 lbs) and even with the things I added to it it comes in at shade over 24 lbs. I am not a weight freak but the "responsiveness" of the frame provides a really unique and enjoyable riding experience. As configured I can easily spend a day/night out fooling around town on this bike.
Inasmuch as this is yet another fresh start for this page I am not sure what actually I will be pursuing this go round. I used to try and follow consumer tech/product related news but really since my exposure to the newest and coolest hardware is limited to what I can afford to buy I am limited source of experience and information. I will probably set up a multi source feed (such as Google tech news) in the sidebar. I have learned how to do a few things such as setup a server and host websites on it and to the best of my ability I do really try to keep the server up to date and reasonably capable. Once in awhile I might share something along the lines of look what I just figured out but caution anyone reading that I am not an expert just a tinkerer further research is always advised. It is no secret that I am from Louisiana therefore some of what ends up here may have something to do with that. Recently in my life I have gone through heart surgery (about 3 years ago) and taken to riding a bicycle for pleasure and exercise. Bicycles and I go way back so some of what ends up here will be about that. I am no speed or distance athlete rather someone who likes to ride and considers bicycles one of the greatest inventions ever! So I guess what I am saying is that in every sense of the word this site will be a personal blog and the title a metaphor for how it is delivered.
The pictures above are some examples of the kinds of things that may appear here. Please realize that everything is very much in a formative state and things could and probably will change. Things that will not change are site philosophy is share and share alike, no bullshit obtrusive ads ever as CompHobby is and will always (long as it is mine) be free. Comments of any genuine positive or negative nature are always appreciated.
Well I had a mishap and can't say for sure that I will restore all the old material that was here. I still have backups but there are some problems with the database files for this site. All my images still live in the cloud so they are apparently safe. Two other sites I hosted are intact and I may put them back up shortly. In as much as this is just a hobby and I have another more demanding (paying) job I can't say what this site's focus will be going forward. More than likely it will be light reading that might interest people who are curious about self-hosting websites. With prices and hosting options being what they are these days non commercial  self hosting probably is more of a novelty undertaking than anything else since getting a website up and going with a professional hosting service is a pretty trivial task, self hosting is not as user friendly and requires a larger investment of time in my opinion. I enjoy this undertaking but I have been doing this for a long time though. I am not a tech-type rather just someone who through a hit or miss (a lot of miss sometimes) process has figured out how to perform some web related tasks. My main resources are Google and the Internet and sometimes it comes together nicely.